Now a Netflix Original Series!
In this arresting memoir about growing up in—and ultimately escaping from—a strict Hasidic community, Deborah Feldman reveals what life is like trapped within a religious sect that values silence and suffering over individual freedoms.
The Satmar sect of Hasidic Judaism is as mysterious as it is intriguing to outsiders. Unorthodox sheds new light on this subculture through one woman's harrowing tale of repression and self-discovery.
Raised in the cloistered world of Brooklyn's Satmar Hasidim, Deborah Feldman struggled as a naturally curious child to make sense of and obey the rigid strictures that governed her daily life. From what she could read to whom she could speak with, virtually every aspect of her identity was tightly controlled.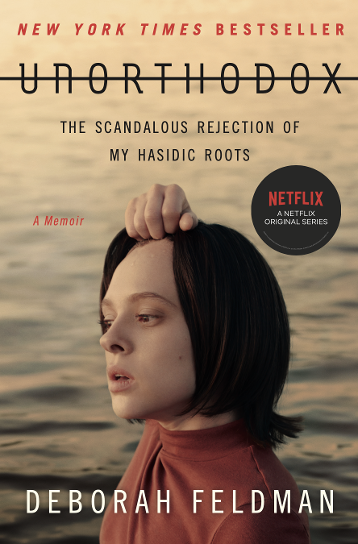 Married at age seventeen to a man she had only met for thirty minutes, and denied a traditional education—sexual or otherwise—she was unable to consummate the relationship for an entire year. Her resultant debilitating anxiety went undiagnosed and was exacerbated by the public shame of having failed to serve her husband. In exceptional prose, Feldman recalls how stolen moments reading about the empowered literary characters of Jane Austen and Louisa May Alcott helped her to see an alternative way of life—one she knew she had to seize when, at the age of nineteen, she gave birth to a son and realized that more than just her own future was at stake.
Unorthodox is a captivating odyssey through adversity and a groundbreaking look into Orthodox Jewish culture.
"A brave, riveting account... Unorthodox is harrowing, yet triumphant."
— Jeannette Walls, New York Times bestselling author of The Glass Castle
"A sensitive and memorable coming-of-age story... Imagine Frank McCourt
as a Jewish virgin, and you've got Unorthodox in a nutshell."
— Pittsburgh Post-Gazette
"It's one of those books you can't put down."
— Joan Rivers, in The New York Post
"An unprecedented view into a Hasidic community that few outsiders ever experience."
— Minneapolis Star-Tribune
"[Feldman's] matter-of-fact style masks some penetrating insights."
— The New York Times
"Riveting... extraordinary."
— Marie Claire